Peace of Mind
Over the past 53 years, the safety, health and comfort of every guest and crew member sailing with NCL has been and continues to be our #1 priority - both on board and on shore. Now more than ever, we are taking the greatest measures, working closely with the CDC (US Centers for Disease Control and Prevention), and are adding stringent protocols, strategic application and supporting innovation to meet and exceed their standards. With Norwegian´s Peace of Mind, you can cruise safely with enhanced health and safety protocols and flexible booking. Feel Free to change plans as needed and feel confident knowing that we are looking out for your health and safety.



New - Healthy Sail Panel Partnership
Norwegian Cruise Line has teamed up with the Royal Caribbean Group to establish a new Healthy Sail Panel consisting of globally recognised experts to develop a science-backed approach for a healthy return to service.
Enhanced Health & Safety Protocols
The health, safety, and comfort of our guests and crew is our number one priority. In collaboration with leading experts, we are enhancing our already robust health & safety measures so you can continue exploring the world with the ultimate Peace of Mind.

We are pleased to inform you now about the launch of our new SAIL SAFE Health and Safety Programme including new enhancements to our health and safety standards.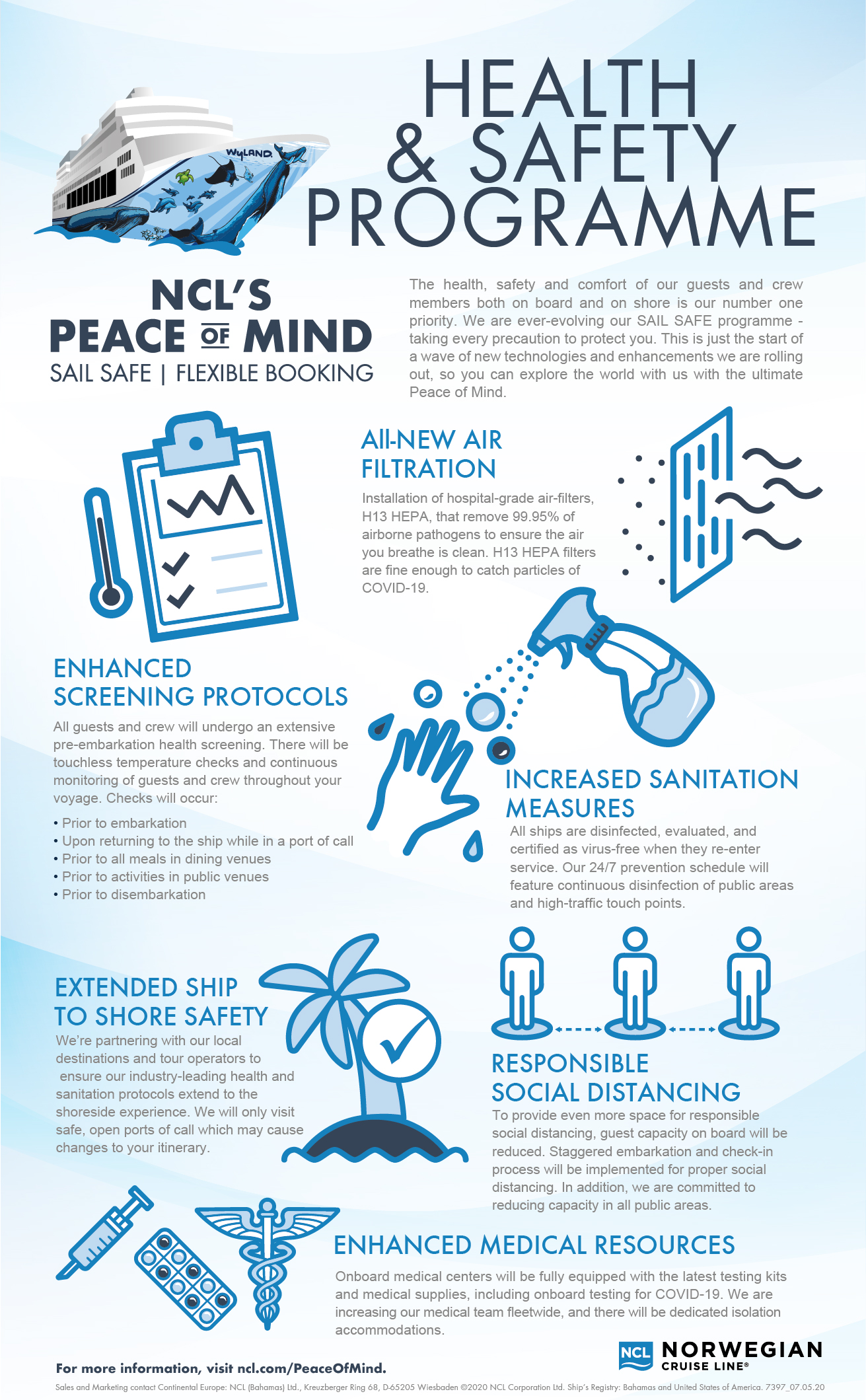 For more information about Health & Safety Programme, please
click here
.


Enjoy our Flexible Cancellation Policy
For all cruises through December 31, cancel up to 48 hours prior to your holiday start date and receive a Future Cruise Credit. For all 2021 cruises through October 31, 2021, cancel up to 15 days prior and receive an FCC.



Enjoy Freedom and Flexibility When Booking Your Cruise

Our Commitment
Enjoy Peace of Mind when you book with Norwegian Cruise Line. Change of plans? No problem. Want to use your Future Cruise Credit next year? Or even the year after? Sure thing. Whenever you are ready, we will be ready to welcome you back on board.



Cancel Up to 48 Hours Prior
For all 2020 cruises, cancel up to 48 hours prior to your holiday start date. For 2021 cruises through October, cancel 15 days prior to holiday start.






100% Future Cruise Credit
Enjoy the flexibility to use your 100% Future Cruise Credit for sailings through December 2022.




For further information please follow this

link.